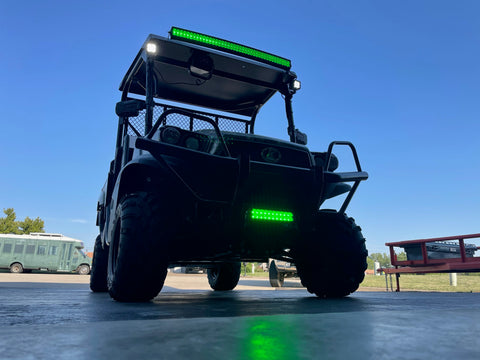 Congrats to Derrik Edler on winning our September Giveaway! 
Derrik will be walking away with one of our 20" Double Row 5W Combo's. 
Take a look at what he had to say about his lights below:
I recently started looking at green LED lights bars for my UTV, that I manly use for hog hunting. Like everything else, there were a number of option. I came across Black Oak LED. They had good reviews and had options for exactly what I was looking for. I started with the, 40 Inch Curved Hog Hunting LED Light Bar. Shipping was fast and I was excited to get started. During unboxing, I was surprised on how durable and well built the light bar was. With the provided brackets, wiring harness and instructions, I had it mounted and operating in a few hours. WOW!!! This thing lit up the world. I took it to one of my properties and did somewhat of a torture test. This thing got abused big time. I was extremely happy with how the light bar stayed in place without shifting positions or bolts coming loose. I was so please with my purchase I ordered a 10 Inch Hog Hunting LED Light Bar to mount closer to the ground. With the optional wiring harnesses offered, I was able to splice the two light bars and run them both on one switch. With the two light bars paired, I'm able to see long and short distance in open fields and heavily wooded areas. I was now set and had exactly what I needed for hog hunting.
I did notice that my stock headlights on my UTV weren't quite bright enough to drive very fast safely during the night to and from properties, when I'm not using my green lights. There was no need to look at reviews or other companies. I went straight to Black Oak Led and purchased 2-2 Inch Diffused LED Pod Lights Pro Series 2.0. Again, with the optional wiring harness offered, I was able to splice both lights together and operate them on a single switch. I was once again floored by how bright these lights were. One would have done the trick but, I'd rather have to much than not enough. I plan to rig my truck with the same set up in the near future and will definitely be purchasing from Black Oak Led.