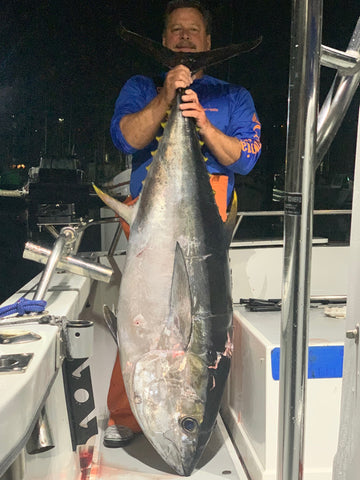 Congrats to Eric Oparko on winning our October Giveaway! 
Eric will be walking away with one of our 20" Double Row 5W Combo Light Bars.
Take a look at what he had to say about his Marine Light Bars below:
Wow! with 22,000 Lumens up top and 11,000 at water level its awesome! I get compliments every time out.
I use my lights to go out into the ocean in Northern California to fish for Tuna 30-50 miles offshore. I caught this rare 200 lb Big Eye tuna in the evening and fought it for 2 hours and 45 minutes where we were 45 miles off the Noyo harbor. After coming in about 20 miles the fog moved in and sun went down and it was pitch black out. Without these lights we would not have made it back in the additional 25 miles. We finally landed in the harbor safely after 10:30 with our prized catch.