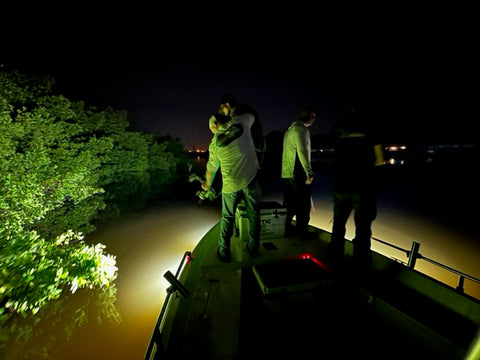 Congrats to Terry Smith on winning our November Giveaway! 
Terry will be walking away with one of our 20" Double Row 5W Combo LED Light Bars.
Take a look at what he had to say about his Bowfishing Lights and Spot Lights below:
Black Oak Led lights rock! I purchased Black Oak Led lights for my boat. I got spreader and spot lights for running at night. They are bright and never fogged up from condensation getting inside. This was very important to me. I had other lights in the past that were very bright but after a couple of times on the water, they were going out due to condensation.
Since the Black Oak Led lights I previously purchased had held up so well, I decided to get some for bowfishing and get rid of the generator noise. I purchased the "scene" lights and they do a fantastic job of penetrating the water. They also have great coverage with 120 degree angle of coverage. I can now run SILENT all night long with two deep cycle batteries.
If you are looking for quality lights for your boat, truck or atv, give Black Oak Led a call. Yep, I said a call. This is another reason I chose Black Oak Led over other brands. You can actually speak to a human. Thanks Randy. Randy helped get me set up with the best lights for my needs and answered all my questions.