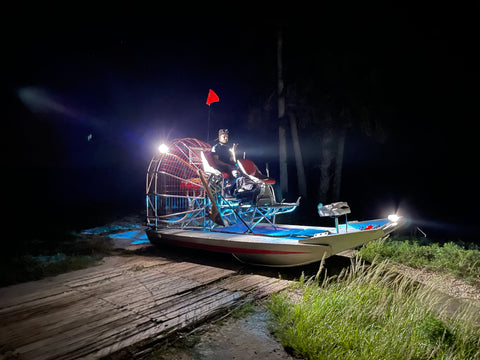 Congrats to Kyle H. for winning November's Giveaway!


Kyle has won one of our 20 Inch Double Row 5W Light Bars!


Check out what Kyle had to say below:
I could not be more impressed with my purchase from Black Oak LED. The lights work great, they are very strong, and easy to install. My first trip out, I got hooked a tree limb with one of my spot lights mounted on the top of my prop cage. I was going about 15MPH when I hit it and I thought it ripped the light off. When I inspected the light I found no damage to the light assembly, the light actually broke the tree limb. The tree limb was almost 3" in diameter. I installed  two 2x2 spot lights, one 2x2 flood light, and two accent cabin lights. It's more than enough light to illuminate the trails at night. I am an avid bow fisherman and have told everyone I know about these lights I found online. They are worth every penny.
Thanks again for such an amazing product, I am a customer for life!
In the last photo we are 20 miles deep into the swamps of Florida!