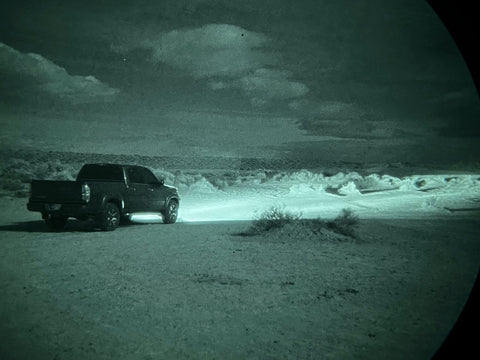 Congrats to Trevin Goodrick on winning our March Giveaway! 
Trevin is walking away with one of our 20" Double Row 5W Combo Light Bars.
Check what he had to say about his Infrared Pod Lights installed on his Tundra:
The first time I turned on the
IR lights
under NODS I said "oh wow I could have just bought one pair."  But I am glad I did buy the spotlights as well for a longer throw. 
My truck is set up to be able to run completely stealth (interior lights kill switch and brake lamp killswitch). I will be using the IR lights to run around the desert hunting coyotes and other predators without giving off hardly any visible signature. 
A side note, I did add some Vivid tint film to the lenses for a touch more stealth since I went with 850s rather than 940s. It also serves as a visible signal sign that my rig has some special capabilities.  If ya know… ya know.  :)
Overall fantastic product. I wired all four pods to one relay and am running a 15 amp fuse. I would guess the amp draw is super low. 
Regardless, thank you guys for a great product at a killer price point.