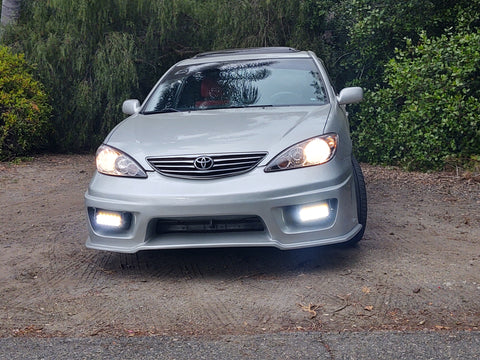 Congrats to Henry Ramirez on winning this month's giveaway! 
Henry will be walking away with one of our 20" Double Row 5W Combo Light Bars. 
Take a look at what Henry had to say about his lights below:
I've purchased 3 Black Spreader Lts & 1 white Spreader. As you can see I've put them to good use as front "fog" Lts on my 87 Cougar & back up Lts on my Cougar & Camry. They are so much more effective than factory Lts, especially for backing up. The 2 six inch Combo Lts on my front Camry where a bit of an inspiration for me. The wrap around skirting included the new front bumper & thus eliminated my factory fog Lts.
The 20 inch Combo Light on my Cougar more than reinforces my factory driving Lts. Of course I have to be careful how & when I use them. Needless to say, when I light those puppies up on a dark road, it's like well, a "super nova". Except for the 2 six inch Combos, the installation of all the other lights, including electrical wiring & switches is all my work. 
Thanks for your great products!!