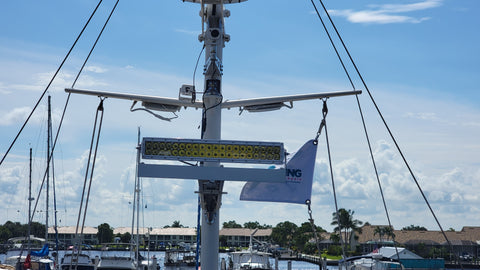 Congrats to Robert Gisselbeck on winning our June Giveaway!
Robert will be walking away with one of our 20" Double Row 5W Combo Light Bars.
Take a look at what he had to say about his 20" Marine Curved Double Row Light Bar:
What was your impression when you first turned on your Black Oak LED lights?
We left Naples Bay for Bimini at 0400, turned the light on and every marker in the bay lit up for at least a mile.  Made navigating the channel easier than in the daylight.
What do you personally use our light for and how has it benefited you.
We came to the outer marker for the Port of the Islands marina around 1830.  I misjudged the tides, so we anchored until high tide at 0100.  The Port of the Islands channel has plenty of markers and tricky sharp turns.  With the Black Oak LED light blazing away I had complete confidence navigating the narrow channel.  As it was in Naples Bay, with the Black Oak LED light, it was actually easier at night than during the day.  With the Black Oak LED light I don't fear arriving after dark.