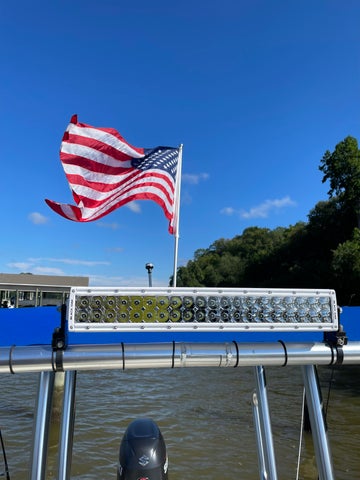 Congrats to Scott Ditto for winning June's Giveaway!
Scott decided to pick out ( 2 ) New - 2 Inch Marine Flood LED Pod Light 40w, ( 1 ) New - 4 Inch Marine Flush Mount Spreader Light, ( 2 ) New - Marine Accent Light - RGB, and ( 1 ) New - 2 Inch Marine LED Scene Spreader Light!
Check out what Scott had to say below:
We got 6 lights from Black Oak, 4 of the RGB small LED's, Back Spreader light, and a 20" Curved Marine light bar. We were able to get the RGB & back spreader lights on and operating first. When we turned on the RGB LED's we knew it would be fantastic and fun making the lights change to the music on a dark South River. The RGB's light up the cockpit of our Alumacraft brilliantly!  The back spreader light is angled down so you can see the engine and direct area behind the boat. Very bright light is given off by the spreader but not blinding. Its light is fantastic and brought small fish right to the surface giving us a great visual area to drop a casting net. The 1st time we got the 20" light bar going I was in our driveway. I did not keep the light on long for fear of disturbing the neighbors!!!  Its illumination is clear and brilliantly bright, I quickly turned off the light for fear that the neighbors may think it dawn! When we light the 20" marine LED on the water I saw clarity on a dark river! I felt so much more safe than any time before knowing what was in front of me. We turned the light on and off @ 30MPH and enjoyed seeing the small fish start jumping in the light path right as the light when on. I have great vision with my 20" LED in the darkest nights on a river that has unmarked buoy's, reflective pilings, old dilapidated docks, logs floating the river and various other vehicles on the water NOT marked so well. They look very cool just sitting on the dock, slowly cruising to diner or going 35+ on the water jamming to any favorite! The back spreader light provides bright white clarity on the engine, back casting deck and rear tie off points. The 20" Curved LED light is used to see the path forward and it does just that…CLARITY! My family/wife feels so much safer being able to clearly see the danger points on any river or a quick shine to let people know your pulling in. It's like turning on a beam of brilliant white sunlight giving us peace of mind!