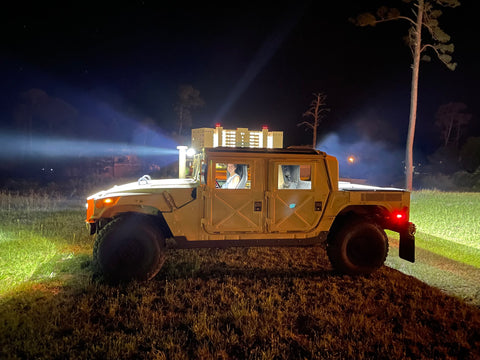 Congrats to Cayce Fry on winning our July Giveaway! 
Cayce will be walking away with one of our 20" Double Row Light Bars. 
Take a look at what he had to say about his lights below:
Last year I bought a surplus military Humvee. Because it was a military truck it didn't come equipped with reverse lights making it non street legal so I had to figure out the best way to fix this issue. I knew I wanted something that was rugged enough to handle the beating of being on this truck. This wasn't going to be a "pavement princess". 
Fortunately I had previously owned a Black Oak light bar for my boat T-top in the past and that thing took a beating out in the harshest environment possible so I decided to see what Black Oak had for this application. They ended up having the perfect light for what I was doing, the 2inch flush mount spreader light. It was compact. The flush mount allowed it to be mounted cleanly without looking chunky and out of place. Super easy to install and turns out to be incredibly bright for its compact size. I love these lights. In fact I loved them so much that I ended up ordering a Black Oak light bar for both the front and rear of the truck for the trails. Warning! These lights are addictive! It's hard not to look for reasons to find more places to put them.