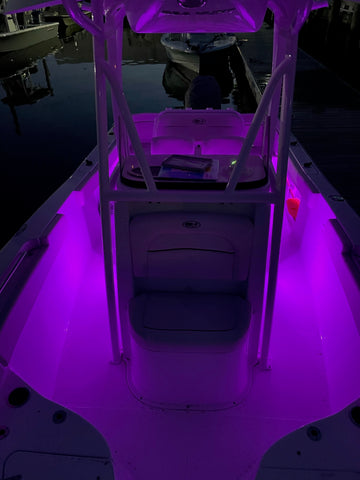 Congrats to Mike Goodson for winning July's Giveaway!
He's walking away with one of our 20" Double Row 5W Combo Light Bars! 
Check out what Mike had to say below:
I bought these to replace the stock lighting that came on my boat that started to rust and corrode only after one year of ownership. My first impression when I opened the box was the quality of construction and the attractive design, they're sleek. These lights are worth the money, they're rigidly built, sealed well and look like they'll withstand the salty sea air and water. When I turned them on I was impressed with the brightness and variety of color options with the RGB. I have 6 of the marine accessory lights and they completely light up my hull. I use them as an accessory light for dusk/dawn boating, they do a good job lighting the hull so I can still see while still navigating the waterways. I also like them for the aesthetics at dusk or at night. They provide some great ambiance when heading back from getting dinner on the water. They look awesome, I've gotten a lot of compliments.