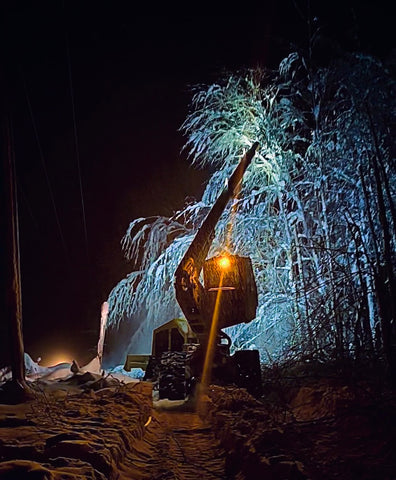 Congrats to Mitch Hoihjelle on winning this month's giveaway!
Mitch will be walking away with a 20 Inch Double Row 5W Combo Light Bar. 
Take a look at what Mitch had to say about his lights below:
The lights are awesome so we have 2 4in spot lights on boom arm, 1 10 in bar, 2 diffused flush mount in the grill and one 2 in diffused for back up light! My first thought was when i watched your youtube video of beating the lights with a bat and dropping them in water ,that these lights are meant for us. Trees falling on them snow rain ice these will be perfect. The lights are insanely bright. We use the lights on a commercial forestry unit called a jarraff which has a 75ft reach. The lights have allowed us to work at night to help keep power lines maintained, and also used it at night to remove storm damaged trees right before Christmas.
There was 1000's of people with out power and black oak led helped us restore power so people could have a nice warm and bright Christmas. Also we are very confident we are the first company in the nation to trim tree's at night based on social media posts! Thank you guys very much