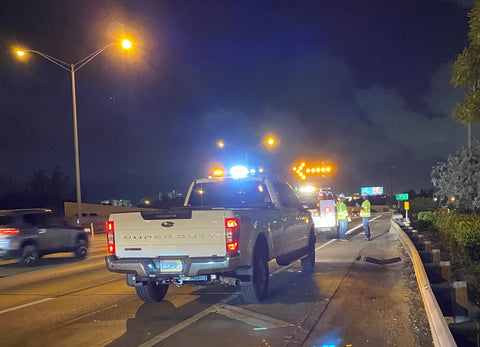 Congrats to Rob C. for winning December's Giveaway!


Rob has walked away with one of our 20 Inch Double Row 5W Light Bars!


Check out what Rob had to say below:
I have been looking at Black Oak LED lights for personal projects and was hesitant to purchase the LED warning lights bars for our vehicles. Was I ever wrong! Our warning light packages include a minimum 48" amber/white, headache rack mounted light bar. Previous practice has been to buy a 12" magnetic mini light bar to fill the void while waiting for other equipment to be installed. While these mini light bars may meet a regulatory requirement, they do not provide adequate warning when working on the high-speed interstate system during the day in sunny Florida. Not to mention, Ford truck cabs are made of aluminum and a magnetic light will not attach to these trucks without adding additional components.


Black Oak LED really stepped forward to meet our needs. We ended up ordering 11 amber/white light bars in 20", 30" and 48" models. The 20" models had magnets that we mounted on some Dodge trucks we rented. We went with the 30" and 48" models because they have mounting brackets that very easily fit the Ford roof line without causing any damage. These lights were designed to be temporary measures until the standard lighting package ws installed, but wow have these lights really performed. The installation was a simple process, the light bars are securely mounted to the rood, and the visibility is awesome. As with any item mounted on your vehicle, you do need to check the roof brackets periodically for tightness. I just completed a 1700-mile road trip without incident and was very please with the light's performance


One aspect we did not anticipate was the varied use for these light bars. We only wanted amber/white warning. We got amber/white warning, front white steady burn or flash, side alley lights - steady burn or flash, and a mini traffic controlled with directional movement. The prices for these units are exceptional for the options that Black Oak Led considers standard. The control panel takes a little getting used to, but the switches are intuitive. The light output is fantastic, but a high/low option would be a wonderful addition. We will consider reducing the number of white modules for future units since we perform a lot of night work. Work crews are visible, and it is hard to miss these vehicles, day or night.


I can't speak well enough about the ENTIRE Black Oak LED team. They were able to turn around 11 units, that needed modification to meet our amber/white needs, in one week during the Thanksgiving holiday period. If you are on the ledge deciding whether you will be satisfied with these lights, take the leap, and make the purchase. You will not be upset and will save money in the process.