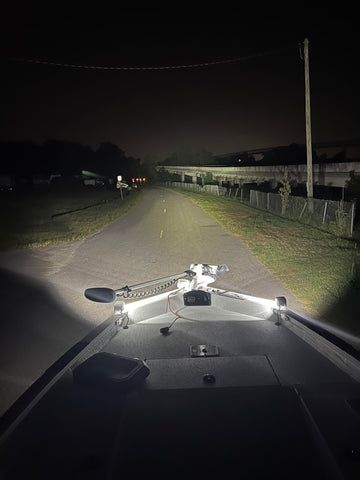 Congrats to Andrew Hutchinson on winning this month's giveaway!
Andrew will be walking away with one of our 20" Double Row 5W Combo Light Bars. 
Take a look at what Andrew had to say about his lights below:
It took awhile but I finally got them installed. Things kept happening and the fishing was good so it was hard to leave my boat for a few days but it got done. I'm really disappointed in myself for not doing these lights sooner. Wow, they are awesome! 
When I first turned them on I was blown away. They are super bright and look so good. The deck lights gives my boat a great look and allows me to see what I'm doing around the deck without blinding me. I can rig up poles, get fish off the hook, and see where I'm stepping and look awesome while doing it! 
The front pod lights are amazing! They really illuminate what's in front of me. Now I have no worries about running from the dock before sunrise or staying out after the sun goes down.