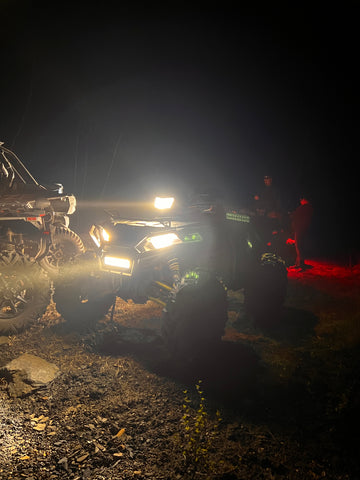 Congrats to Braden M. on winning this month's giveaway! 
Braden will be walking away with one of our 20" Double Row 5W Combo's valued at $680.
Take a look at what he had to say about his lights below:
Was originally worry it wasn't going to be bright enough or have enough flood light and be to focused but it turned out to be perfect I was impressed how bright the light is and has a great balance of both flood and spot light. Also with my rock light I was impressed with how small but bright they were. 
I have both one of your light bars and your rock light on my quad as shown below. The light bar has benefited me the most by filling in where the headlights don't shine. There good led projector lights but they are so focused that hard acceleration and braking there either way up of pointing right in-front on me. The light bar has not only helped by letting me see farther out infront of me but also let me still see while under hard braking and acceleration. The rock light have also been nice not only to look pretty but with be able to see when crawling on rock and such at night. Being able to see everything in a small radius around the vehicle makes such a difference.