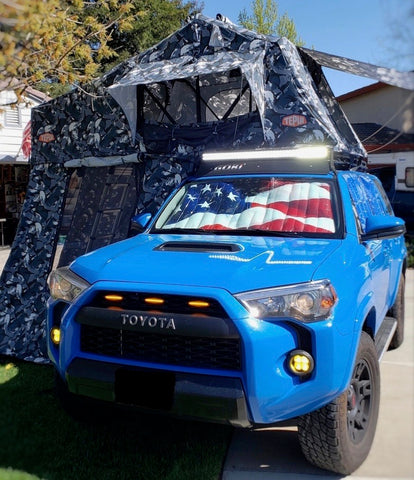 Congrats to Scott C for winning our latest Giveaway!
Scott decided to go with (2) of our 6" Double Row 5W Combo and (2) Black Lens Covers in exchange for the 20" Double Row. 
Check out what Scott had to say below:
We are about to hit the (off)road in our 2019 Voodoo Blue Toyota 4Runner TRD Pro, dressed up with your awesome Black Oak LED Pro Series 2.0 Dual Row 40 Inch Curved LED Light Bar mounted on my Gobi Stealth Roof Rack along with a Tepui Explorer Autana 3 Rooftop Tent with Annex! 
What was your impression when you first turned on your Black Oak LED Lights?
Our first impression when we turned on the lights for the first time was "wow!". They turned the night into day.  Now I need to mount two more smaller Black Oak LED lights on the light brackets on the rear of the Gobi Stealth Roof Rack to light up the world behind us.
What do you personally use our light for and how has it benefited you?
Now that the virus craziness is winding down, we intend to make up for lost time this spring and summer with a lot of camping and overlanding. Your Black Oak LED light bar and our eventual smaller rear Black Oak LED light bars will be a key component of our adventures, lighting up the dark when needed for travel, setup and breakdown. They have already benefited us by helping light up the roadways on late night trips up to the mountains for snowboarding.