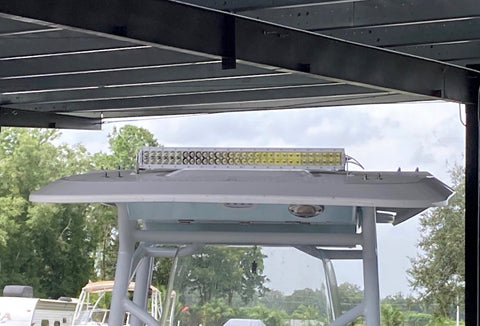 Congrats to Doug Haller for winning August's Giveaway!
He's walking away with one of our 20" Double Row 5W Combo Light Bars! 
Check out what Doug had to say below:
A couple years ago my friends and I started to hit the Florida Keys regular for the opening of Lobster season. Opening morning is usual pretty crazy with many boats heading out in the dark hours before sunrise..(The start of the season). Lobster season has increased in popularity and as a result a lot more boats and boaters are out on the water. A small percentage of the boaters have very little respected, common sense and a complete disregard for safety and laws. Several years ago, we were running on a particularly dark night in a channel. We had several children on board and as we were making our way out way to the lobster grounds ahead, I notice something that didn't look right. At that time all I had to light up my direction was a handheld spotlight. We couldn't see much at first as the light was not powerful but as we got extremely close, we finally saw a 25ft boat right ahead of us in complete darkness. They had no Nav lights!!! No stern light!!! Nothing at all! Fortunately, they were heading in the same direction and I was able to avoid them at the last moment. I was very upset by this encounter and I vowed to find a quality reliable light that will keep myself, my friends and family even other boaters (Dumb as they maybe) safe! After much research I came across Black Oak Leds. I had read about their quality and reliability before but after reading the testimonials and experiences others had with them, I decided to give them a shot! From the moment I opened the package I knew I made a good choice. You can see the quality and passion that the folks at Black Oak put into their products…even the packaging! I also receive a personalized letter thanking me for buying American and supporting their business. Sometimes it's the little things that make it extra special! I received my Black Oak and installed it just in time for 2021 mini season. On the opening morning, my friends and I found ourselves riding out in the darkness to our favorite spots. This may be hard to believe but yet again we saw something in our path. This time I was able to illuminate the whole area ahead of us utilizing my Black Oak Leds and thus revealing a small craft…..again with absolutely no lighting! This time, thanks to Black Oak, we were able to see it far enough ahead of us to where we could safely avoid a collision! They have proven to be supper reliable and I will never go out bug hunting without my Black Oak LEDS!!!