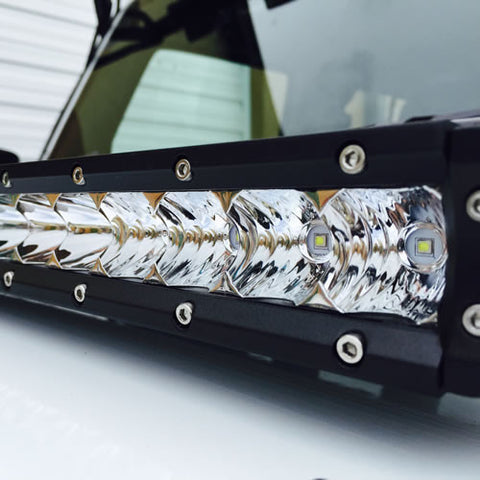 How to Choose an LED Light Bar
With additional lighting attachments becoming increasingly popular, more and more motorists

are deciding to equip their vehicles with an LED light bar. If you've ever experienced the

inadequacy of headlights alone in certain situations, it is easy to see why they are making this

decision, especially considering the durability and energy efficiency of LED light bulbs. With

this being said, going out and buying the first light bar that catches your eye is probably going to

leave you disappointed. In order to make sure you get the best LED light bar for your money,

here are some factors to keep in mind:

 Brightness

The brightness of LED light bars are measured in lumens—the SI standard unit for the

intensity of light. As a reference, a 40-watt light bulb can produce about 450 lumens of

light. Comparatively, most good LED light bars are going to be able to produce at least

2,000 lumens or more. The more lumens your light is rated for, the brighter it is going to

be. Keep in mind, however, that for on-road lighting, an LED light bar that is too bright

could risk blinding oncoming traffic.

Wattage

The wattage of an LED light bar is a measure of how much power it takes to operate. If a

light is able to produce the same amount of brightness on less power, then this is

definitely an advantage. Wattage may not matter as much if your vehicle is running and

the battery is recharging itself anyway, but if you are using your light bar with the engine

off then you will want to be careful about draining your battery. A lower wattage LED

light bar means you can use your light for longer periods of time without this becoming

an issue.

IP Rating

The IP rating of an LED light bar is a measure of how protected its inner workings are

against solid particles such as sand, dust, and mud, as well as water infiltration. When

purchasing an LED light bar, look for a rating of IP67 or higher. This rating means that

the light bar is completely protected against solid particles, as well as able to survive

thirty minutes of immersion in one meter of water.

 Company Reliability

If you want your LED light bar purchasing process to be as enjoyable and hassle-free as

possible, then you will want to purchase a light bar from a trusted and reliable company.

At Black Oak, we are a USA based company that considers our customer satisfaction as

a point of pride. Choosing to buy from a reliable company is just as important as

choosing which LED light bar to buy. By buying from a company that values their

customers as much as we do, you are ensuring a satisfying purchasing process.

Hopefully, all of this arms you with the information you will need to begin your search for the

best LED light bar available. Keep these factors in mind, and soon you will be lighting up the

roads ahead of you like it was the middle of a sunny day.