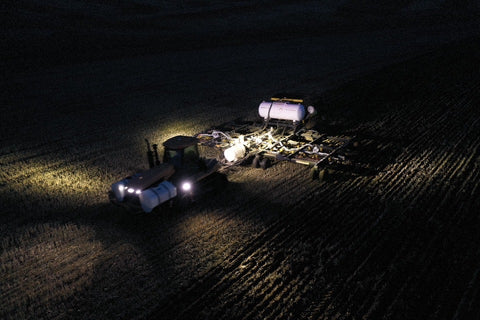 Congrats to Kevin Klein on winning this month's giveaway! 
Kevin will be walking away with one of our 20" Double Row 5W Combo's valued at $680.
Here is what he had to say about his lights:
On our farm in eastern Washington we have been running older tractors (early 2000 models) and the old original lights were going bad and just do not put out the brightness these black oaks produce.  We have installed half the number of black oak lights and have drastically increased the visibility all the way around the tractor.

The seeding tractor is a CAT 95E with 4 pods on the front on the hood, one pod on each side of the tractor and 4 pods on each back of the tractor cab.  The majority of the pod lights are 2in by 2in.   There are two 2x10" lights on the back of the tractor cab used to light up the whole drill so we can see everything happening going thru the drill.

We also try to keep an extra pod or two around just in case the need arises for a light replacement or additional on another piece of equipment!!