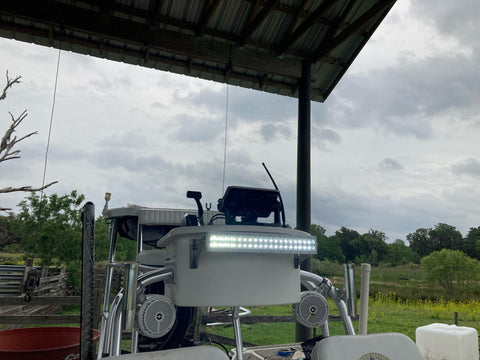 Congrats to Curt Williams on winning our April Giveaway! 
Curt is walking away with one of our 20" Double Row 5W Combo's valued at $680! 
Check out what he had to say below about his 20" Marine Curved Combo. 
First and foremost, let me say thank you very much for your excellent product and your excellent customer service. I was in need of the light for an upcoming night fishing trip with my family.
I own many led light bars, installed on tractors, ATV's and side by sides for night hunting and after hour work on our ranch in central Florida.  In the past, we have purchased cheaper lights from amazon and EBAY due to lower cost and given the nature of our work, they go through pretty harsh conditions.  I couldn't really justify purchasing one of your lights because they were more expensive, but after seeing all the stress tests done and made available on your website and youtube, I decided to give them a shot.  First impression was the excellent craftsmanship and durable construction, but after seeing the power and clarity, I was sold on your product.  Navigating on the gulf waters at night are a breeze as pylons and channel markers are mad visible an incredible distance away, making our night fishing adventures safe and very enjoyable.  As our old cheapo LED lights fail, (which they are doing so very rapidly) they will be replaced with Black Oak LED's in the future.
With my new Black Oak Curved LED, navigation after or before daylight hours are a breeze, and has allowed us to fish when the bite is good, and not limited by sunlight.  Thanks again for an excellent product that has greatly increased my success as a fisherman.