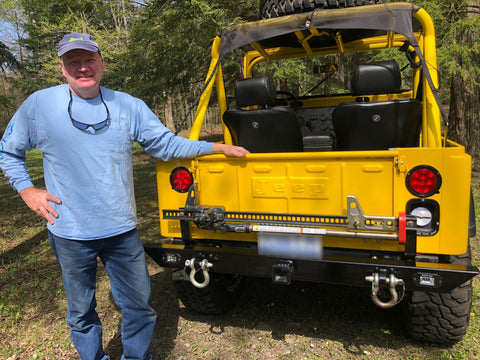 Congrats to Raymond Hess for winning April's Giveaway!
He's walking away with one of our 20" Double Row 5W Combo Light Bars! 
Check out what Raymond had to say below:
I have a custom bumper on my CJ5 Jeep and needed backup lights, what I had was a small LED the fit in my trailer hitch, which didn't do much at all, plus I couldn't use the hitch!. I wanted a light that I could recess into the bumper, was thinking at first in the body but wanted to get closer to the ground. I found a few that would have worked but I wasn't sold on any of them. I kept looking at came across BlackOak with a marine application LED light, your 2" Black Marine Flush mount lights. On the site they looked not bad, the price was up there but I said lets give em' a try. Wow was I impressed when they showed up. The packaging alone was top notch and the lights exceeded my expectations. I could quickly tell they were quality built and not built for price competing, but built to last, and that is where I prefer to be, give me the long haul product. The install went well with having to water jet the holes in the bumper. They brightness of these little guys also is more than I expected.
Thanks BlackOak for a excellent product