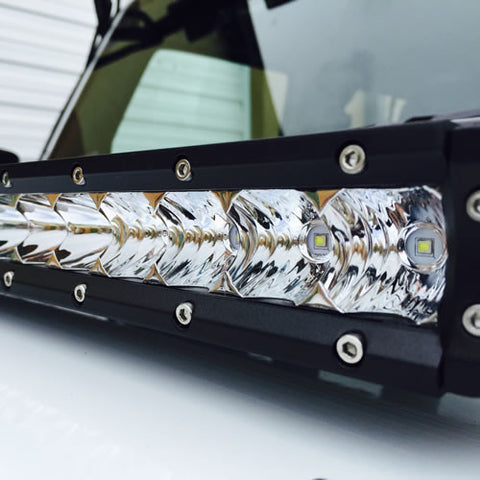 Having a relay switch is essential if you are wiring up a light bar that has a very large amp draw at all. In this guide, we'll explain what a relay switch is, why you need one, and how to wire one up yourself.
What is a Relay Switch and Why do I Need One?
A relay is an electrical switch that lets a low current circuit control a high current circuit such as a large LED light bar. If your light has a very large amp draw at all, you will want to install a relay switch to keep from overheating an ordinary switch, burning up the wires, and thus reducing the amount of electricity getting to your light. If you are using a light pod that does not have a very large amp draw, you may not need a relay switch, but if you are using a larger LED light bar, they are a must have.
Here is our standard wiring harness: 
How to Wire your LED Light Bar With a Relay Switch
To begin with, look at your relay switch and notice the four prongs on it marked 30, 87,85, and 86. If you are using a wiring harness and switch, these four prongs may be plugged in already, However, if you are wanting use a different electrical current to activate your light bar, (such as having it come on when you turn on your bright lights) you will have to install the switch yourself. To do this, simply match the numbers on the prongs according to these guidelines:
The prong marked 30 connects to the positive terminal of your battery, or, alternatively, to another power source that only recieves power when you have the ignition of your vehicle turned on.

The prong marked 87 connects to the positive side of your LED light.

The prong marked 86 connects to the power source that you are wanting to use to control your LED light bar. For example, connect it to the high beam wire if you want your light to come on with your high beams, or connect it to your backup wire if you want your light to come on when your reverse lights are on.

The prong marked 85 should be connected to a ground.
Quick Links:
If you desire, the prongs marked 85 and 86 can be safely switched without any difference. If you are wanting to wire your light bar in such a way that is controlled with a separate switch on your dashboard, all you have to do is leave the wiring harness set up the way it is, cut the wire coming to the 30 prong, and wire it either to your high beam LED or backup light wire.
If you still have questions about how to wire a relay switch, we would love to be able to help you. Feel free to call or email us and one of our experienced staff will be happy to walk you through the process step by step.